"Pig's Tail"™ Protective Wrapping
"Pig's Tail"™ is a HDPE (High Density Polyethylene) protective wrapping designed for easy installation to existing hydraulic hoses as a quick and cost effective method for minimising production losses . It provides protection against wear and damage caused by misuse, poor maintenance, or aggressive working environments .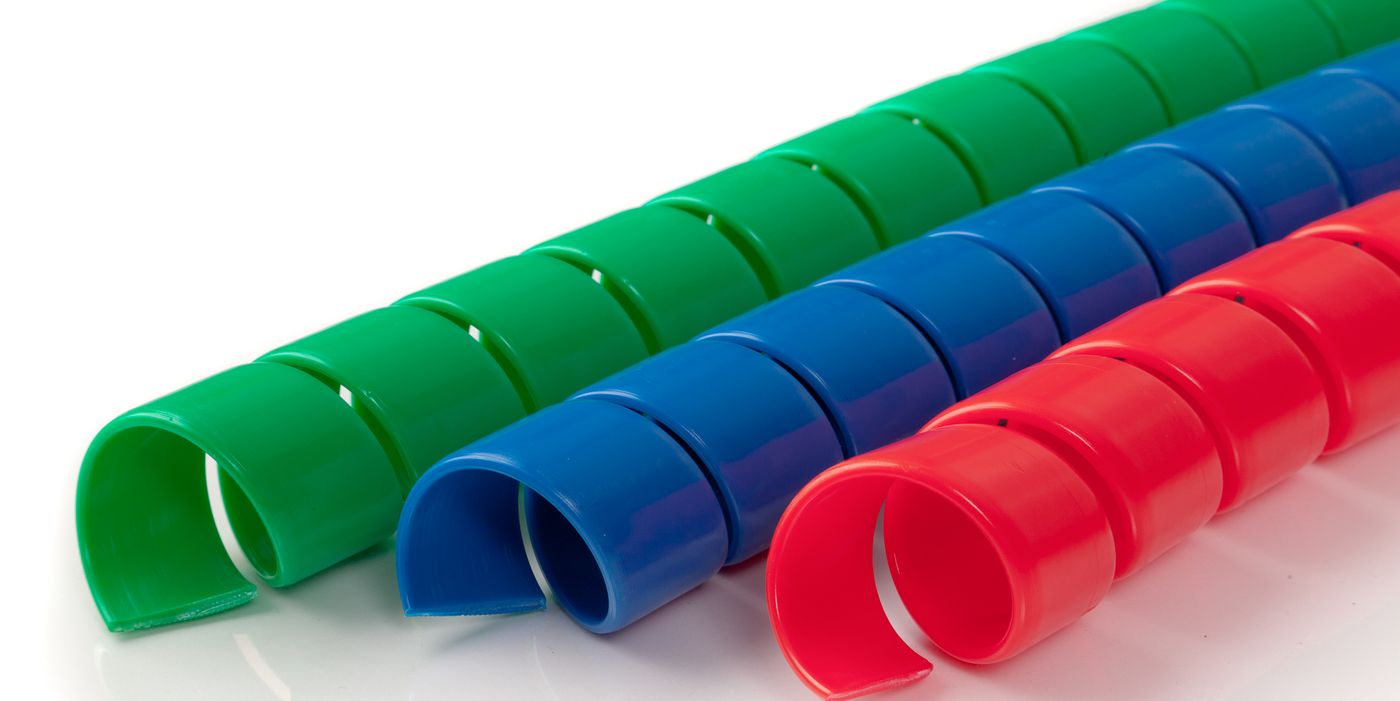 "Pig's Tail"™ Protective Wrapping offers the following performance benefits:
Developed to increase the service life of hydraulic hoses
Manufactured from tough HDPE for ultimate protection against abrasive wear and crushing damage
Unique rounded edges make it easy to install and reduces risk of exposed sharp edges
Wide range of sizes suits most hose diameters
Can be used to protect a single hose or to bundle hoses/cables together
Spiral cut for ultimate flexibility
Resistant to chemical attack and suitable for use in the most aggressive environments
Suitable for use with equipment operating across a wide temperature range (-10°C to 90°C)
Fire resistant and anti-static versions available for use in sensitive environments
Suitable for use with all hydraulic fluids including glycol and phosphate ester based products
Nightglow
Developed from high density polyethylene and photoluminescent, "NIGHTGLOW" not only bundles and protects your hoses it also emits light allowing easy identifcation of hydraulic lines, equipment and static objects in low lightor night time conditions.
The fuorescent glow is clearly visible for up to 12 hours and allows burst or ruptured hoses to be identifed even in the dark.
I comes in a variety of diameters, thicknesses and helix widths. Download brochure here.
Fire Resistant Anti-Static (FRAS)
FRAS "Pig's Tail"™ is a conductive thermoplastic compound on a polypropylene base. Conductivity is achieved by using special conductive carbon black In addition to low electrical resistivity.
FRAS is flame retardant and has an extremely good balance of mechanical properties.
Tested To: AS2600, AS1180.10B, AS1180.13A
Electrical Guard
An alkathene low-density polyethylene "Pig's Tail"™, Electrical Guard is available in:
Natural and Black colour
Boxes from 15m to 100m or
Spools from 150m to 500m
Electrical Guard is designed to wrap around bundles of wires to make neat looms and protect the conductors. It will accommodate a large range of diameters and allows break outs at any point.
Download Product Data Sheet for "Pig's Tail"™, FRAS, Electrical Guard
Our Location
---
Weldalloy
9 General Macarthur Place
Redbank Queensland 4301
Australia
Tel: +61 7 3277 2300